This recipe is very simple, it only has 4 ingredients you can find in any supermarket, and it takes just a few minutes to prep and juice.
I recently made a decision to start juicing after watching an eye opening documentary about Joe Cross. The movie is called
Fat, Sick and Nearly Dead
, and it got me to do something I wanted to do for ages – buy a juicer and start juicing regularly.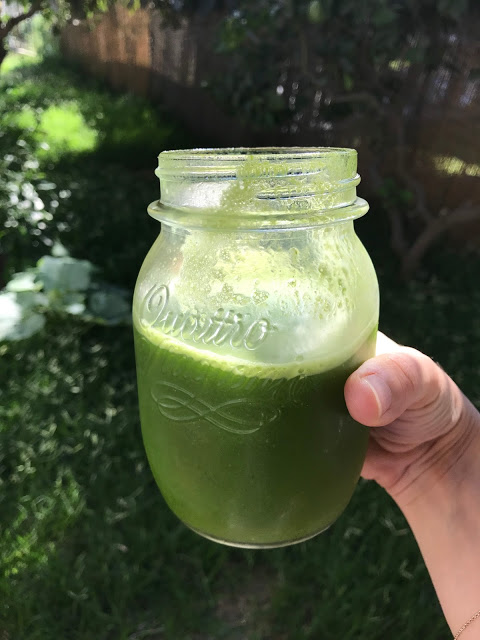 Simple Green Juice
I have to be honest. I know most people who juice make it seem like a simple job, well I hate to disappoint you, but it's not. It's not hard, everyone can do it, but it takes time to prep, and mostly to clean the juicer after the juicing is over. Juicer companies make it look so easy and quick as if cleaning a juicer is just like cleaning a plate or a fork, it's not.
With that being said, it's worth it, but the busy life we all have leaves us with less and less time to worry about food and cooking, so juicing can seem like a huge task.
My tip is to make larger portions of 2 liters, 64 ounce whenever you feel like juicing, and to keep it in the fridge. I bought some nice jars (0.5 a liter, 16 ounce) which are dedicated for juice only. I keep the juice in the fridge for couple of days and then my husband and I get to enjoy the juice for couple of days without the hard labor of juicing for every single glass of juice. Believe me – it's the way to go when you don't have much time.
I promise you that even though juicing takes some time, it's worth it! here's my super simple green juice recipe.
Ingredients:
3 stalks of celery (I like the leafy greens as well)
1 lemon
1 large cucumber
1 large apple
Directions:
Wash the fruit and vegetables.
Peal the lemon (you can keep the peal on if you love a little bazinga in your juice).
Cut the ingredients to pieces which are suitable for your juicer.
Juice the ingredients.
Serve with 1-2 ice cubes and have fun!
Today's track is a song I can't stop listening to lately, it's perfect, I had to share it with you all. Enjoy!